Nick Georgiou, Senior Project Manager, and Partner at SUMAC was interviewed a few weeks ago. Nick is a licensed architect with broad experience in all phases of new building construction, complex rehabilitation, and remodeling. With over 40 years of project experience, he has worked on light industrial, processing, and distribution projects, such as the Federal Express Metroplex at O'Hare International Airport in Chicago, a 380,000-square-foot Airport Mail Facility for the United States Postal Service in Illinois, and two new Engine Repair Facilities for Superior Engine in northwest Indiana.

According to Nick, light industrial and logistics architecture encompasses shops, warehouses, distribution centers, office support areas, and support facilities. SUMAC has extensive experience in these types of architecture, enabling us to recognize the unique requirements of these buildings.

Nick answered several questions during his interview to help us understand what goes into a light industrial construction project.

What should be kept in mind when developing the architecture for a new light industrial building project?

To plan, program, and create a preliminary layout for the project, the following points must be well understood:
Knowledge of the day-to-day operations of a business and what is needed in order to conduct its activities.
Learn what equipment the business should have in its warehouse or shop to support its daily operations.
Discover how the business manages its equipment, employees, and day to day operations.
For Superior Engine, a "jib crane" was required in order to lift the truck's engine as part of the required services provided in the shop. SUMAC had to determine the structural support, exact height at which the engine should be lifted from the truck, and clearance of surrounding utilities, which determined the height of the overall shop ceiling.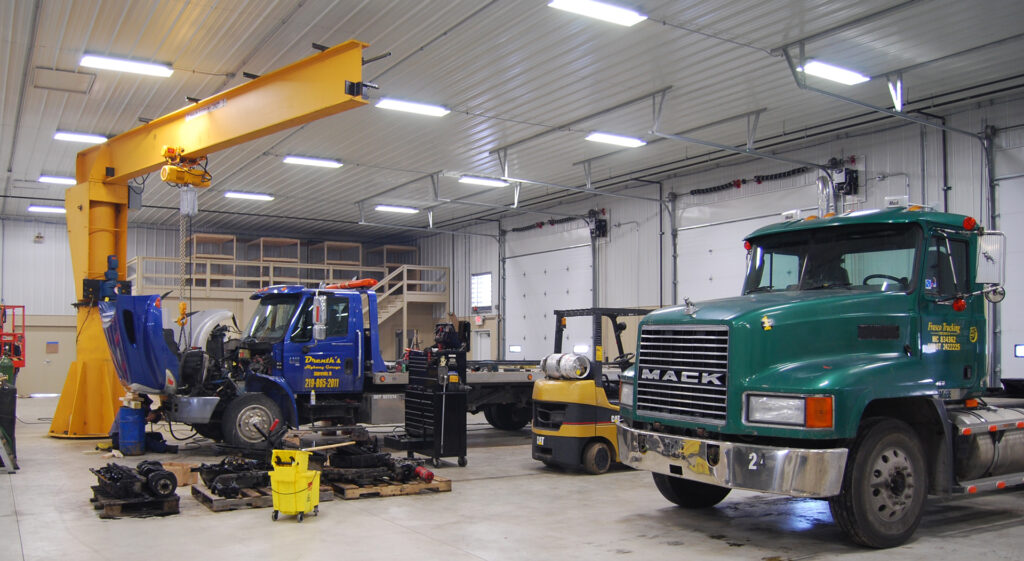 Are there particular challenges that arise when undertaking a project of this nature?

Once the programming information has been compiled into a plan, the entitlement phase starts. Entitlement phase includes zoning and building code review, determination of municipal approvals, and scheduling the same. This approval is required to undertake a project on a particular site before detailed design can begin.

Typically, Nick explains, one of the main challenges is the zoning requirements, which vary depending on the city, township, and county in which the project is being conducted. Many people are unaware of these requirements and have spent money planning, scheduling, and designing a building project without these approvals. Typically, the zoning requirements need to be reviewed on both new and existing site proposals, which, if not handled effectively, could disrupt a project's schedule.

To ensure approval of the Superior Engine facility, SUMAC made several presentations to the local Plan Commission and the Board of Zoning Appeals for municipal approval. This particular project involved merging 2 existing subdivision lots into one. This challenging stage must be effectively managed to ensure the project schedule proceeds efficiently.

Once the project has been approved by the municipality, you can begin to determine the overall design and construction schedule, and construction budget. After a budget has been agreed upon and resolved, the detailed design process begins.

What benefit do our clients receive from working with SUMAC?

SUMAC is a full-service architectural and engineering firm that supports you throughout the project life cycle and looks at all impacts and benefits available to the client.


Light Industrial facilities pay taxes not only on their facilities but also on their equipment, which in many cases can amount to thousands of dollars. SUMAC will help you achieve savings by determining if tax abatements are an option for the project. You can request tax abatement reductions in both your building and your equipment in certain municipalities. While working for Superior Engine, SUMAC worked with legal counsel and obtained a 10-year tax abatement for the Owner. With its experience and knowledge, SUMAC has been able to help its clients save thousands of dollars.

What are the highlights of managing a light industrial and logistics building design project?

There are a number of them; the building is only part of the overall project. The site location and size are crucial. For example, when trucks enter and leave the facility, the area required for maneuvering, shipping, and parking for cars and trucks significantly increases the general site area. Among other things, we at SUMAC pay a great deal of attention to evaluating all the operations and workflows in your business to ensure that the project site size and access are appropriate.

SUMAC will work with your business to continue to operate while providing the construction and engineering services you need. At SUMAC, Nick has worked on several renovation and expansion projects where it was paramount that existing business operations were maintained while the building construction was underway. As a result, we had to work with the owner to segregate the construction site, organize the site installation, and ensure that employees could successfully carry out their work to avoid disrupting their day-to-day operations.


Overall, Nick covered valid points regarding light industrial design and construction project management. In conclusion, we hope this article provided you with several takeaways and a better understanding of light industrial construction projects. SUMAC's light industrial and logistics solutions are flexible and can adapt to your future needs, regardless of the size or complexity of the project. We would be delighted to discuss with you how we can assist you during the process of delivering and developing your next light industrial or logistics project.

Do not hesitate to contact SUMAC if you have any questions or need assistance. We look forward to collaborating with you and hearing your needs regarding this topic.

Nick Georgiou
Partner & Senior Project Manager